The Shallow End is a dance piece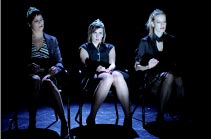 documenting our obsession with the surface.
This dance theatre trio, questions the eroticized stereotypes disseminated by mass media in the post feminist age, by  juxtaposing the common place images of violence used to shock, sexuality exploited to sell and the cult of celebrity used to distract, with a search for depth and authenticity.
Like a doll's house, The Shallow End reveals different views of women negotiating their own experience and identity in the face of external pressure from a commercially driven culture.
Video Excerpt of the Shallow End
Choreographer : Erin Flynn
Dancers : Johanna Bienaise
Monique Romeiko
Magali Stoll
Music: Various artists